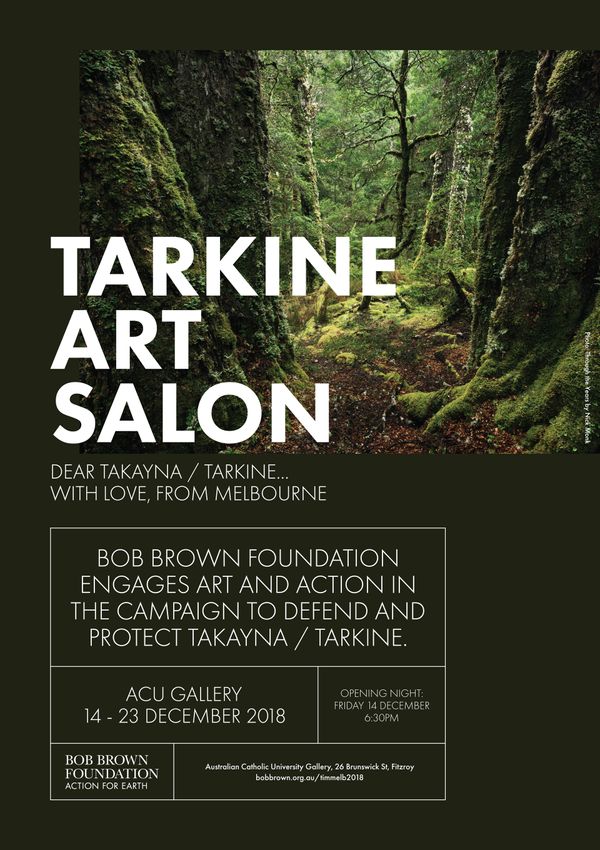 The Bob Brown Foundation exhibits a new collection of over 60 artworks produced by 35 artists showing impressions of the threatened yet wild landscape of takayna / Tarkine at the Australian Catholic University Gallery on Friday the 14th of December at 6:30pm. 
A feature collaborative piece of this year's art exhibition is a series of work titled merging with takayna /  Tarkine that involved body painting a model into the landscape at two unique places in the Tarkine. 
The remote Julius River, in takayna / Tarkine was where singer and song-writer Melissa Black was painted into the base of the giant old growth eucalypts and where her music video captured footage of the transformation. 
"What an absolute pleasure it was filming here, immersing myself in this ancient rainforest. I have never seen greens as vibrant as this before or walked a forest floor so soft.  How lucky I am to have become such a forest, brushstrokes transforming, shaping, releasing me. We should never lose these beautiful places," Melissa Black said. 
"Many hundreds of artists have traveled to Tasmania's takayna / Tarkine as part of our Tarkine in Motion artist field trip to document and capture the feeling of the landscape to share with the world.  Our annual artist event is the biggest environmental arts project in Australia and exhibiting works in Melbourne is perfect for showcasing this ancient, wild and threatened place that needs to be saved," Bob Brown Foundation Melbourne Campaigner Emma Wasson said 
"Standing on the Tarkine's majestic coastline stretching out before me and an amazing team surrounding me, the culmination of months of planning was coming to be.  'Merging with takayna' was taking beautiful shape.  You simply cannot come to a place such as this and not feel change," said singer song writer Melissa Black. 
Melissa Blacks song 'Red Blood Moon' became the film 'Merging with takayna' which will feature in the Tarkine Art Salon. The exhibition is on show between Dec 13 to Dec 23, 2019, open between 10am and 6pm week days and weekends at the Australian Catholic University at 26 Brunswick Street, Fitzroy.